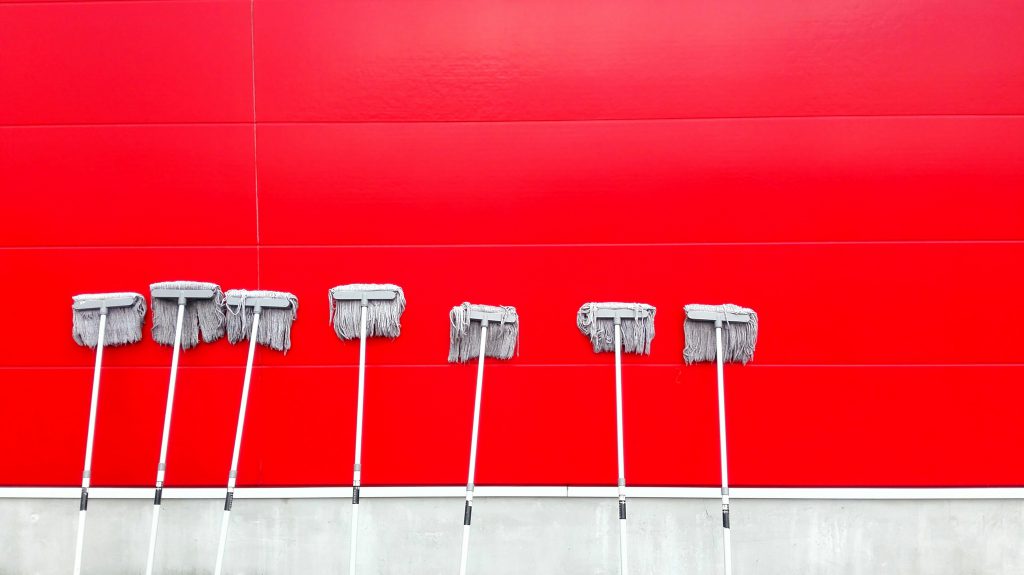 I research and write about different ways to become self employed and when I came across the topic of opening a cleaning business, I wasn't sure if this market was too competitive to really make a living at. And I didn't see a lot of information out there on how to get a business like this up and running from home so I dug deeper.
As it turns out…there's money to be made! If you're willing to work hard and can find a good way to market your business, you can totally do it!. And what's great about a cleaning business is, you can easily get it set up from your own home as long as you have room for the cleaning supplies and there's not a lot of overhead costs to get started.
So let's take a look at just HOW to start a cleaning business from home and see if it's something you think you can tackle.
---
PROS
Minimal Start Up Costs – You can start with a lot of the same products you use to clean your own home since you already know what works and what to avoid from your own trial and error. Or, you can check with knowledgeable staff at your local home or hardware store to see what cleaning products they recommend. Better yet, call around to see what other cleaning services use!
Flexible Hours – Depending on the timing needs of the customer, you may be able to clean houses when it suits you best. Since you are the business owner, you can decide what hours you can work and plan accordingly. Having said that, it's always best to accommodate the customers schedule whenever possible. When first starting out, you may be able to work around another job while you get your cleaning business going, grow your customer base etc.
No Experience Required – Although this is true, it's VERY likely you already have experience cleaning since you've likely been cleaning your own home for a few year (at least I hope so:). But you don't need a 4 year degree or anything of the sort – just a strong work ethic to do your best for each customer!
CONS
Takes Time To Establish The Business – Starting any business from scratch takes time, even if the overhead is low. It simply takes time to find new customers, acquire repeat customers, and simply get the word out about your business. You may be with just one or a handful of clients when first starting out…and some of these people may only want a one time clean vs an ongoing scheduled clean of their home or business.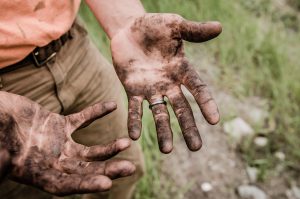 It's Hard Work! –  This sort of goes without saying, but it's good to know that if you acquire a lot of customers, it can be physically demanding at times with a lot of repetitive movements. Of course this can be a good problem to have too since, if you're feeling sore, you are also likely making a good living!
Hard To Estimate Length Of Time For Each Job – Not everyone will have a near spotless house…some of the homes may be larger and/or dirtier than others, have pet hair (like my home:) adding to the amount of time needed to do the job. You'll have to learn how to price accordingly when bidding for the job upon first meeting the customer.
---
Equipment List:
Below are a few of the more obvious cleaning tools and products needed. You can choose what products you'll want to use to make the job more efficient. It may also vary slightly if you're cleaning homes or businesses.
Mops
Brooms 
Rags
Sponges
Toilet Brushes
Vacuums – You'll need a good one as this will be a major part of your business and you'll want those floors/carpets looking spotless. Amazon carries a HUGE selection of vacuums and, if you have Amazon Prime, you can get free shipping. High end vacuums like Dyson or Miele get good customer ratings but they cost a bit more than the average vacuum cleaner (like the $50 vacuum I use in my home:). Just do the research and decide what's best for your business and budget!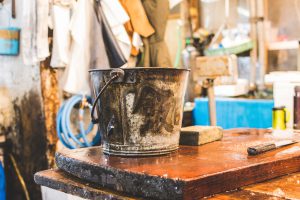 Cleaning Products – For this, I'd check with your local home store to see what product offers the best bang for the buck. As mentioned earlier, it may be helpful to call other local cleaning services to see what they use or if they have a supplier that can offer discounts to businesses.
Or if you have a product you already know and love, just buy more of it from Amazon –  there are HUNDREDS to choose from.
This is not an all inclusive list, but should be ample to get started. Add to this list with tools or products of your own!
Since this is your business and these items will be used extensively, you may want to consider buying higher quality items that will stand the test of time!
---
Other Things To Consider
See If You Need A Business License – A simple call to your local city or county government offices will clarify whether you need a license to operate or not. Or check your city's local website.
Licensed/Bonded – To gain trust with your customers, being licensed and bonded can go a long way. You'll be going into their homes, often times when they aren't there. So regardless of how nice you are or well you present yourself, being licensed/bonded will help put their minds at ease.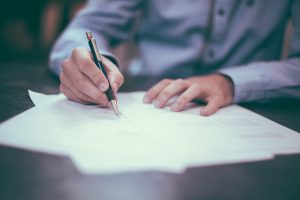 Price Accordingly – This can be one of the hardest parts to figure out when you first start. Here are a few points to consider:
Charge by the hour or by the home – opinions on this vary. It depends on many factors such as size of the home and how cluttered or dirty the home is. Popular opinion suggests charging by the house – that way it doesn't matter if it takes 30 minutes or 3 hours, you'll get paid fairly.
Don't undercharge or overcharge for your services – If you undercharge, potential customers may not see you as competent as the higher end businesses. And of course if you charge more than everyone else, you may lose business for being overpriced. It's tricky! Call around to as many cleaning services (or visit their websites) to see what they charge and position yourself near the middle. You can always adjust as needed.
Consider Adding Additional Services – This could include light yard work, carpet cleaning, running errands for the customer and more. This can not only bring in some additional income, it can set you apart from the competition.
---
How To Market Your Business
Word of Mouth – Tell everyone you know about your new business!
Craigslist – FREE way to advertise. List it in the services area.
Call Local Businesses and Non Profits – If they say no, ask if they know of other businesses who could benefit from your services.
Set Up A Facebook Page – Set it up specifically for your business or simply add it to your personal account, depending on your preference. What a great way to let your friends know! Word can spread fast this way.
Call Your Local Newspapers – Many people still read the papers in your local area (maybe you're one of them!). Call their advertsing department to check on ad costs.
Check For Local Community Blogs or Forums In Your Area – A search query in Google like "local community blogs" or something similar will likely pull up a few options.
Build A Website – There are a lot of affordable options out there these days, a lot of which don't require you to know HTML code etc. This website you're reading is powered by WordPress. I set it up through SiteRubix  and it's worked great for me – I know very little about the technical aspects of website design etc., so I was grateful to have found a hosting service that takes care of it all for me! They have hundreds of pre-made templates for you to choose from. You simply pick the one you want, click a button, and you're ready to build your site – it takes around 30 seconds!
Once your site is up and running, it's time to make it grow…this is where I got stuck. Setting it up was fun but without a little help, I didn't know how to market my site so people would see it. This is what I loved about SiteRubix – it works in tandem with Wealthy Affiliate, and they can teach you how to market your site, making it more popular with the search engines like Google, Bing, Yahoo, and more. This can help attract THOUSANDS of potential customers!
Wealthy Affiliate has over 800,000 fellow business owners, all helping one another grow their respective businesses. Read my review here.
---
Final Thoughts
Keep in mind that you can always start your cleaning business part time to get started. Fit it in around your full time job at first by working on weekends, evenings, or whenever it works for you and the customer. As you acquire more business, you can scale back or quit your job.
It's a bit nerve wracking to think about jumping into any full time business – it's a big financial risk and it can take time for the business to get established. Another way to supplement your income is by checking into other self employment options that can be done in addition to your new cleaning business. I write about that all through this site so check it out and see if there are other options that also interest you!
Thanks for stopping by – if you have experience setting up a cleaning business from home, or are thinking of starting one, please leave a comment below. I'm happy to help in any way I can. Good luck with your exciting new business!