If you have a blog, or are thinking of starting one, many people have questions about just how to make money from it. It's not a simple question to answer as there are a lot of ways to monetize your blog.
But one of the least complicated (yet lucrative) ways to get started is with affiliate marketing. If you're not familiar with affiliate marketing, Dictionary defines it this way:
"a marketing arrangement by which an online retailer pays commission to an external website for traffic or sales generated from its referrals." (Dictionary.com)
There are two ways to "do" affiliate marketing – sell other people's stuff on your blog and earn commissions OR have a product and make it available for others to sell on their websites. If you're just starting out, it's much easier to promote other people's products – digital or physical products.
But once you get the hang of how it all works, you can do VERY well creating your own product and having other affiliates selling it on their websites. You'll get the most money doing it this way as you're just paying the affiliate their commission fees while you pocket the rest.
However – creating your own product (often digital) is more complex so we recommend selling other people's products until you get a good idea of what's required before you create your own product for other marketers to promote.
We'll list what we think are the top ten affiliate marketing programs, but there are hundreds of affiliate marketing opportunities out there! These are listed in no particular order. They all have value in their own unique way and you may find that you simply like using some of these over others.
One important thing to keep in mind is that you can sign up for any or all of these affiliate programs! But it's not a good idea to clutter your site with affiliate links, though, so we'd recommend picking and choosing the programs that best suit your website.
Ok – lets take a peek at the top ten affiliate marketing programs now!
Ebay 
Ebay has been around for over 20 years now and is not likely going anywhere. It's known for selling items, of course, but it also has an affiliate program where you can make commissions on your site if users access the Ebay link from your site.
You can find an Ebay page you'd like to share with your website users, create a trackable link for your site, and if someone clicks on your link and buys something, you can get a commission. A link to their affiliate program can be found here or simply scroll to the bottom of their page and look for "Affiliates" link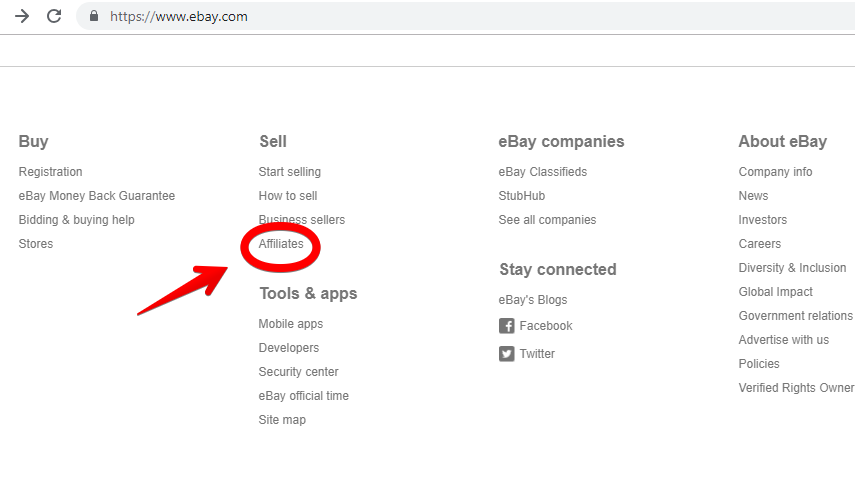 We like Ebay because it's established and stable, and is user friendly for the affiliate.
Clickbank
Another company that's been around for awhile is Clickbank. If you're not familiar with them, they sell digital products – thousands of them. And what's great about selling a digital product is that the commissions for affiliates are often much higher.
Commissions on Clickbank range from just a few bucks to several hundred dollars per sale.

You can sign up with Clickbank, find a product you want to promote on your site, and get your own unique Affiliate link. When someone visits your site, clicks on your affiliate link and buys the product, you get a commission.
That's an over simplification of the process, but gives you an idea of just how it works.
Clickbank does have some lower quality digital products to be aware of, but you can identify these by the quality of their sales page, how long they've been listed there (the longer the better), and for their "quality score". The quality score is a type of ranking system that lets affiliates know if the product is selling. A score between 20-100 is ideal.
Although there are some products with questionable quality, we highly recommend Clickbank because it has so many great tools for the affiliate and because the commissions are usually quite high.
Amazon
This is the big one many of us are familiar with, and have likely purchased some products from. Amazon has been around for 24 years now and has one of the top affiliate programs out there.
You simply sign up to be an affiliate on Amazon and will be given your own affiliate ID. When you post a link or banner to your site, someone clicks your link and buys the product (physical product), you get a commission.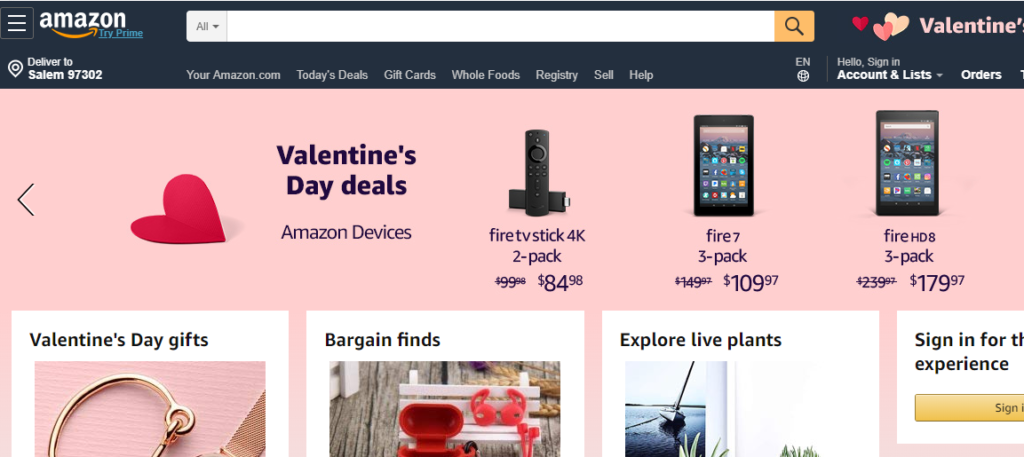 The commission rates are anywhere from 2% to 10%, not high but they can add up quickly if you get a lot of traffic to your site!
You can also accumulate "bounty fees" if people sign up for other Amazon services like Prime, setting up a business account, and more. You'll get a flat fee ranging from $3 to $15 for these. The link to the commission structure can be found here.
We like Amazon as it's very secure, user-friendly for the affiliate, and is secure and established.
Rakuten
Formerly "Buy.com", Rakuten is also a stable, established company. They will process payments to associates in over 200 countries worldwide!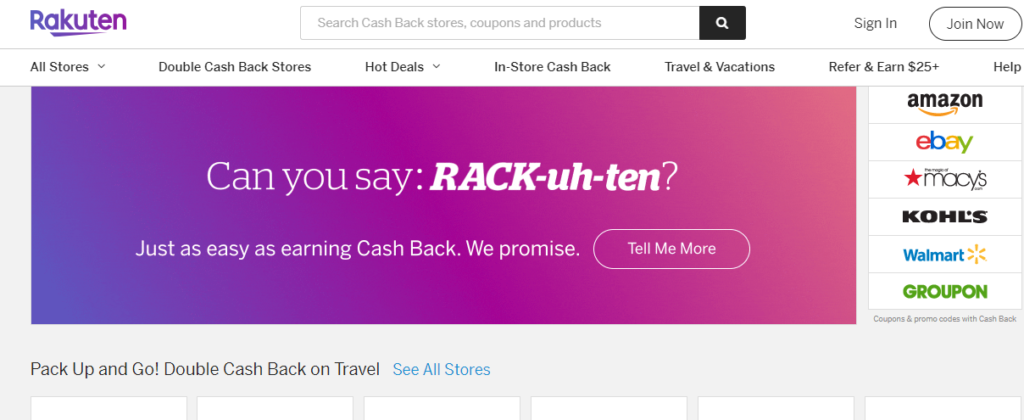 The commissions vary but generally range between 8% to 15%, depending on what you're selling. And they have many companies, products, and services to promote on your site.
It's easy to sign up and get started, and they have a lot of training and tracking tools for the affiliate. You'll want to add this one to your list of must see affiliate programs!
Shareasale
Shareasale is another very popular, and growing company. They've been around for 18 years and boast up to 25,000 products and up to a 6% commission structure. Perhaps not on the higher end, but stable.
It has a nicely designed training program and offers over 4800 merchants – impressive!
They're known for great customer support, excellent training, and can hold their own with the larger companies. It's free to join and they also offer real time reporting tools. They offer twice monthly payouts.
CJ Affiliate
This is another reputable company that caters to those with a more established website. They have over 3000 merchants on their site, many of them very large companies like Lowes, Office Depot, or JCrew, to name a few.
One feature that stands out is there is they allow the affiliate to communicate directly with the merchant. They also offer great reporting tools (although these can be a bit tricky to figure out as a new affiliate), and offer to pay by check or auto deposit to your bank.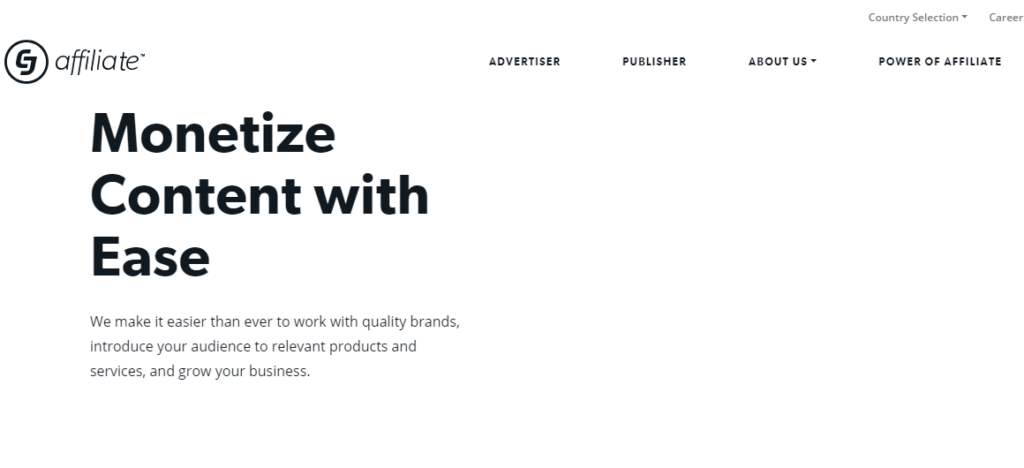 They offer an array of different size banner ads to use on your site, with flexible affiliate linking.
Also – mobile ads are available which is becoming increasingly important as so many people are searching and buying with their phones!
A down side is how hard it is to sign up – You need to first apply by submitting your website URL. Then they make a decision whether or not your site is has enough content, SEO, traffic etc. After this step, you need to apply to each individual vendor and they will either accept or reject your site.
We want to be upfront about this as this can be frustrating for those with a new site. It's not impossible, but you MAY have to wait to use CJ until your site is more established.
Peerfly
Peerfly offers a CPA or "Cost Per Action" model (vs CPS or cost per sale) meaning that as an affiliate you get paid when a user clicks on a company's link on your site and performs a certain action.
Wikipedia describes the difference here: "Pay-per-sale or PPS (sometimes referred to as cost-per-sale or CPS) is an online advertisement pricing system where the publisher or website owner is paid on the basis of the number of sales that are directly generated by an advertisement. It is a variant of the CPA (cost per action) model, where the advertiser pays the publisher and/or website owner in proportion to the number of actions committed by the readers or visitors to the website.[1]" (Wikipedia)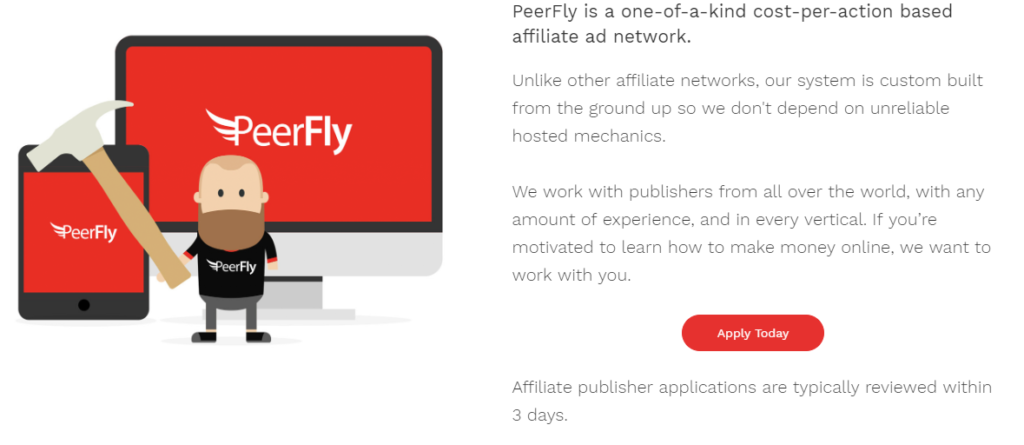 By using the CPA model Peerfly puts a different twist on things for the affiliate marketer, but it's a good thing. It's a lot easier to get your site users to click on a link and perform an action when it doesn't involve spending any money. The flip side is that commissions can be a bit lower.
What makes Peerfly cool is it's easy for the newbie affiliate marketer to use, a major bonus in our book. Some of the aforementioned programs cannot say that.
Other reasons to consider Peerfly – higher payouts for affiliates, it's available internationally, and has over 2000 merchants to choose from!
A few things to be wary of, though, is that it can be challenging to sign up and some of the offers are spammy.
FlexOffers
FlexOffers has been around for 12 years now, and (from their sales page) boasts that it has over 12,000 advertisers, 500 premium + Advertisers (you get higher payouts going with FlexOffers vs direct with the merchant), and Net7 payment (getting paid 7 days after invoice so you don't have to wait long).

The main thing we love about FlexOffers is that you don't have to wait to be "approved" by the program. You're in once you sign up! This is great for new marketers and those with newer websites.
Another great feature – you can earn additional $$ by referring friends to the affiliate marketing platform, in the form of bonuses for you once they begin making commissions.
There are few critiques of this platform, other than they only offer payment by check or direct depot…not a deal killer.
Viglink
VigLink is a great, user friendly program that converts your outgoing affiliate links. Once users make a purchase, you earn a referral commission. What Viglink does (and we love) that you don't need to be signed up for an individual affiliate account on each and every network. The Viglink tracking system takes care of it all!
Viglink will convert all outgoing links, allowing you to make money from all of them. Now THAT is great.
It also offers an easy set up process and more money than the in-text type of ads.
Skimlinks
Much like Viglink, Skimlinks makes it easy for the beginning marketer or those who don't like to mess with a lot of the techy hands on stuff.
With Skimlinks, you can work with ANY merchant you choose providing a lot more choice for the publisher.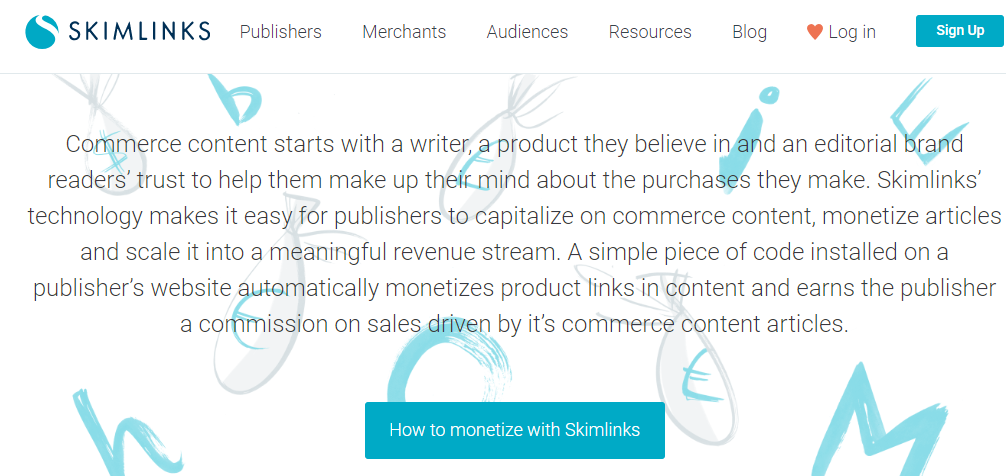 It's easy to add Skimlinks into your existing content and offers a wide range of commission rates, some up to 100%. Most products offered are physical products so this can be a pro or con, depending on what type of blog you are monetizing.
All in all, Skimlinks is a solid program and worth considering!
---
Where To Learn More About Affiliate Marketing
So now that you've learned about some of the top affiliate programs, where you can you learn more?
Many affiliate marketers who are just starting out (or even those wiley veterans of the craft) still like to learn how to best use affiliate marketing to get the most value from their site or simply pick the brains of other affiliate marketers on latest trends, how to increase traffic to their blog etc.
There's a wealth of information out there about affiliate marketing – the programs that promise you millions if you just sign up with them…or other scams that are really out to just get your money.
We HATE stuff like that, and it's those kinds of programs that have given internet marketing a bad name. But there's hope!
We recommend (and use daily) a program with over a million other affiliate marketers or others who are there to grow their business – whether it be a brick and mortar OR online business. and not all of it.
It's called Wealthy Affiliate, and it's been around since 2005. It's been our main 'teacher" in affiliate marketing and basically everything else related to owning a blog or other online business.
If you want to learn more, we have our review here – spoiler alert, it WILL be biased ?. It also has an affiliate program which brings in a full time income for many of it's members. Check it out – it's FREE to get started, and if you like what you see, you to upgrade for a monthly or yearly charge which will then provide additional training, tools etc.
---
Our site is dedicated to helping people interested in becoming self employed so if you are interested in other self employment ideas, please peruse through our articles. For more information on being self employed, read this article.
---
Closing Remarks
We hope you've found some useful information here. It's hard to know where to start in affiliate marketing sometimes. We hope the 10 affiliate programs listed here will get your mind churning about the potential increased income they could bring to your blog!
If you have any questions or have tried any of the programs above, leave a comment below. We'd love to hear from you – we can all learn from each other! Thanks for stopping by.