If you're an artist, I envy you! There are not many professions that one can get paid for creating beauty like a great painting, sculpture, or whatever form your art takes.
I can draw a mean stick figure but that's about it…so obviously I can't instruct you on art technique or how to improve your craft…but I CAN talk to you about how you can market your art online to reach thousands of people!
Who Is A Successful Freelance Artist?
So besides amazing creativity, what makes an artist successful? A few personal characteristics stand out…
Persistence – nothing happens overnight and it takes WORK to make it
Patience – again, this is not a "get rich quick" business so be patient and be ok with slow but steady progress.
Flexible – be willing to work whenever it suits your customers, which can be evening or early morning hours, maybe weekends.
Motivated – You'll have to muster the strength to work even when you don't always feel like it. But just remember your goal…you want to be an artist right? So it's worth it!
Passionate – You need to LOVE what you do (although this is probably a given if you're here researching how to start your own art business). Let your enthusiasm show to your prospective clients as well – this excitemet is contagious and will help sell YOU to them.
---
How To Become A Successful Artist
It may feel like a daunting, scary, arduous process to become successful in the Art world and, to be sure, it's NOT easy. But it can be done, and with a good plan in place you can make it work!
1.  Network
Get the word out about your business and tell everyone you know…your family, friends, co-workers.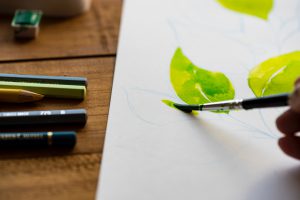 Craigslist – Regardless of where you live, Craigslist can be a big player in selling your art and advertising it. Best of all, it's FREE!
Join Art Specific Online Forums like ConceptArt, DeviantArt, or ArtistForum. It will allow you to find out how other artists are promoting their art and simply to connect with those with your similar interests.
---
2.  Work for A Studio First
If you're new to the world of art, this may be a good way to get familiar with the day to day routine of being an artist. It'll help you understand pricing, business practices, advertising etc.
Once you get a feel of how it all works and you have an idea of what kind of art you want to sell, then it may be time to start thinking of starting your art business.
I write more about being self employed here.
---
3.  Start Out Part Time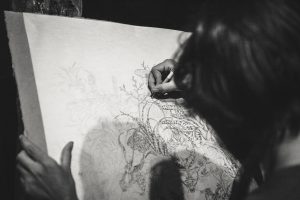 Until you find a way to market your work, don't quit your day job.
In fact, before you consider selling your art full time, make sure you have several months of income saved up.
You don't want to be one of the "starving artists" you've heard about!
---
4.  Build A Website
This is not too difficult a task these days so don't worry! There are TONS of web hosting companies out there now that offer affordable web hosting.
Having an online presence can really boost your art!  Think about it for a moment…there are nearly 2 billion people online. You have to know that out those 2 billion, there are at least a few thousand who would love to buy your art!
Whether you have experience in web design or not doesn't matter. I wouldn't know how to set up a website either! But I found a great hosting service with pre-made templates that are ready to use and they're awesome.
SiteRubix is the hosting service I use and it's worked great. They have responsive 24/7 technical support, are mobile friendly, and have 1000's of beautiful web templates to choose from to create a beautiful website to showcase your art!
They've always treated me well and they also partner with an amazing online business community that can help you in marketing your art online. It's called Wealthy Affiliate and they've provided training and support to further market my business, taking it to the next level.
They allow you build 2 Free Websites as well! That's how I got started. Take a look in the box below and type in the name you'd like to choose for your art business.
---
5.  Make Your Business Grow
In addition to the above points, it's helpful to find a platform to make it grow…a place to learn how to set up your website and use it to drive traffic to your art!
After all, in order to get exposure to your art, you'll need visitors…a way to tap into the nearly 2 billion people using the internet! If you do, your business could expand quickly!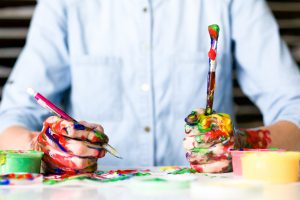 If you've created a website using SiteRubix, you already have access to this forum in Wealthy Affiliate.
They can teach you how to set up your website, about keyword selection, and how to make your business grow online!
There are nearly a million other business owners already plugged into Wealthy Affiliate, many who already have successful businesses (some who are in the Art business) who are willing and able to help you with yours.
It's free to check out, so take a peek and determine if it's a good fit for you in developing your freelance art business!
---
Other Tips
Don't Over or Underestimate the value of your art! When you're first starting out, you'll want to price your work a bit lower than the competition until you get more established. But that doesn't mean barely breaking even either.
Remember, you're getting paid not just for the creative piece you've created (uniquely created by you!) but you're also getting compensated for the amount of time and effort you put into it. Unless you're able to crank out your work in 20 minutes, I'm guessing it takes several hours, days, or weeks to create your work so keep that in mind when pricing it.
Take a look at art mediums similar to yours to see what people are pricing it at and price yours accordingly.
---
Closing Thoughts
I hope you've found a few helpful ideas here! I wish I could sell art online, but I don't think there's a huge market for stick figures:)
If you have other ideas for ways to sell art, please include them below. Also – if you have questions about marketing or setting up a website, please leave them below. I'm happy to help. Best of luck with your Freelance Art business!
If you are interested in other topics related to self employment, check out the rest of my site for additional tips. Thanks!